Back to aPriori Blog Home
Striking a Balance Between Green Design and Cost Efficiency
Across the manufacturing industry, companies are employing sustainable manufacturing and green design initiatives to significantly reduce their environmental impact. According to the World Economic Forum, manufacturing accounts for one-fifth of global carbon emissions and consumes 54% of global energy resources. Manufacturers now more than ever need to think about the materials and processes they use to support a sustainable future.
However, how can manufacturing firms achieve green design and product sustainability while remaining cost efficient and profitable? This is the difficult conundrum and challenge that manufacturers continue to face today.
In this article, we will discuss how manufacturers can manage the complexities of balancing green design and product costs. We also explain how companies can leverage a manufacturing insights platform's should-carbon capabilities to reduce carbon emissions while maintaining profitability.
What is Green Design in Manufacturing?
Green design refers to the collection of eco-friendly production processes, materials, and resources used to develop a sustainable product. Manufacturing companies can only achieve green product design by incorporating design for sustainability principles early in the product development process. The design for sustainability methodology aims to preserve the planet for future generations through sustainable product design and production processes.
According to McKinsey, 80% of a product's environmental impact is locked in immediately in the design stage. This statistic emphasizes the importance of using a design for sustainability approach to reduce environmental impact when it matters most.
In addition to ensuring green product design, the design for sustainability methodology empowers today's manufacturing companies to:
Reduce carbon dioxide equivalent (CO2e) emissions to meet net-zero aspirations and goals.
Improve environmental, social, and governance (ESG) performance for better customer satisfaction.
Eliminate waste while conserving energy.
Enhance corporate social responsibility (CSR) programs through environmentally conscious manufacturing processes and material selection.
According to a PWC survey, 80% of consumers are more likely to buy from a company with sustainable manufacturing initiatives. It is evident that manufacturers must prioritize green product design to satisfy the demand for sustainability and ensure long-term profitability.
In addition to strong customer demand, regional and global regulations have been a driving force behind sustainability and green design initiatives. These regulations have compelled manufacturers to enhance their energy efficiency, lower their carbon footprint and eliminate waste.
Achieving green product design is critical from a financial standpoint, as financial investors are only choosing to back sustainable businesses. Manufacturers must provide financial investors with year-over-year (YoY) insights to show their progress toward achieving sustainable manufacturing goals. Investors can use these insights to make more informed and better investment-based decisions.
What Challenges Must Manufacturers Overcome to Achieve Cost-Effective Green Design?
As previously mentioned, managing product sustainability and cost tradeoffs is a major challenge that manufacturing organizations face today. While design for sustainability brings an environmentally conscious approach to design, it cannot identify real-world cost-saving opportunities for sustainable manufacturing.
Manufacturers lack a comprehensive, transparent view of their product's green design and cost relationships without the right digital solution. Organizations require advanced technology to eliminate internal back-and-forth discussions and take the guesswork out of balancing product sustainability and cost.
Another challenge is how manufacturers can get the entire product team to consider cost and sustainability, rather than just one area. Simply put, companies must determine how they will develop an organizational culture that aims to achieve cost and sustainability goals simultaneously.
Why Should Companies Use a Manufacturing Insights Platform to Achieve Cost-Effective Sustainable Design?
The Fourth Industrial Revolution (Industry 4.0) has introduced digitalized and automated solutions to streamline critical manufacturing processes. Manufacturing insights software, such as the aPriori platform, were among the innovative, digitally transformative technologies that emerged with Industry 4.0.
Digital manufacturing platforms provide an automated, simulation-driven process for quickly gaining cost insights while ensuring sustainability and profitability. The platform is intended to be used by internal product development functions such as in cost engineering departments. Cost engineers can leverage manufacturing insights to establish baselines or collaborate effectively with various stakeholders in engineering and procurement.
Powerful manufacturing insights technology allow global companies to perform the following cost and sustainability-related activities:
Identify the biggest contributors to carbon dioxide (CO₂) emissions and product cost.
Run trade-off analysis to compare CO2e emissions with cost.
Evaluate different manufacturing processes to compare CO₂ with cost.
Find material substitutes that emit less CO₂ with full transparency or visibility into their cost impact.
Assess alternate regions of the world to determine how they impact production costs and the carbon footprint of a product design.
How Do Manufacturing Insights Work to Ensure Cost-Effective Sustainable Product Design?
Digital manufacturing platforms leverage imported 3D CAD files to produce comprehensive, real-time insights into product cost, manufacturability, and sustainability. After successfully importing their 3D CAD files into the manufacturing insights platform, businesses can configure various digital factory variables. Among the highly configurable and selection variables are real-world labor rates, specific machines, materials, and production processes.
Companies can also calculate how four primary levers, including geometry/shape, material, manufacturing processes, and location/electricity mix, influence cost and CO₂ emissions. Manufacturing insights adds all costs associated with a product, including labor and assembly, to generate an accurate should cost value.
In addition to should cost projections, the platform layers in the following sustainability-based variables to produce comprehensive "should-carbon" calculations:
Material Costs. Users can calculate and determine the impact of rough mass, regrind/re-melt, and waste material on material CO2e factors. These variables are added together to calculate material CO2e.
Manufacturing Process Costs. Users can gather and add cycle time, energy use, and electricity CO2e mix factors to calculate process CO2e.
Total CO2e. The total CO2e value can be quickly calculated by adding the material CO2e and process CO2e. Manufacturers can then use total CO2e to identify the various cost-driver factors and determine how they can be reduced.
Manufacturing insights platforms, at their core, provide manufacturers with actionable insights to meet their cost and sustainable product design goals. Further, the platforms give manufacturing companies a greater understanding of what causes CO2e emissions, all while providing complete cost transparency.
Key Takeaway: Balancing Sustainable Design and Cost Efficiency is an Attainable Goal
Manufacturing organizations do not have to choose between attaining green product design and cost efficiency. Instead, they can use digital manufacturing insights to evaluate cost and carbon footprint values and strike a balance between the two.
AEROSPACE'S SECRET SUSTAINABILITY SOLUTION
Airliners must rely on a tried-and-true sustainability method: cutting weight and cost. Listen to the podcast episode to learn more.
LISTEN TO THE PODCAST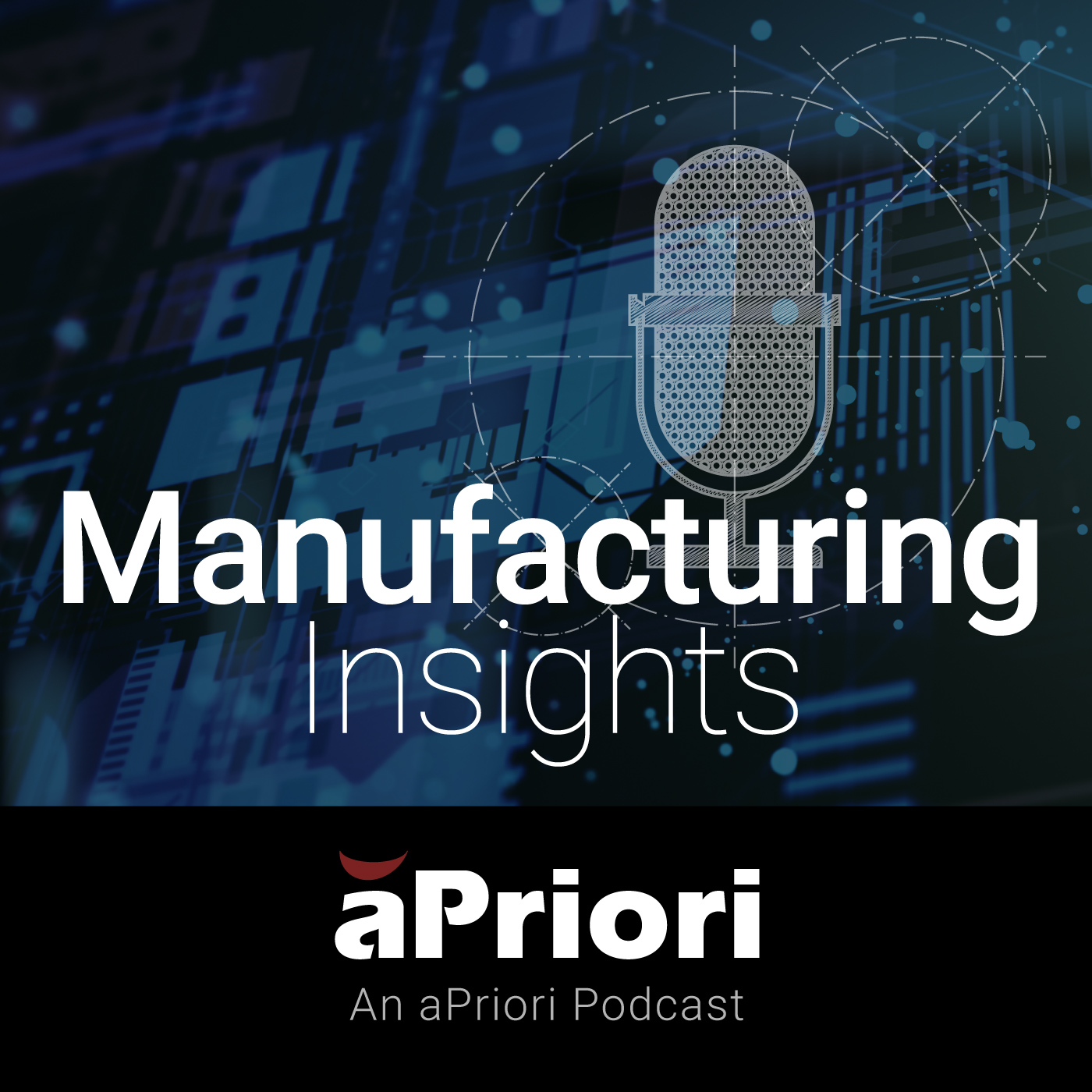 ×