Back to aPriori Blog Home
What to Look for in Manufacturing Costing Software
For manufacturers, inadequate cost modeling capabilities can drive serious business problems. Many manufacturers, for instance, are forced to no-bid potentially valuable work solely due to a backlog of cost estimation workflows. Traditional cost estimation methods often relied on "back of the envelope" methodologies, like comparing proposed products to similar past projects—or simply adding a defined profit margin to costs through a cost-plus model.
But these "close enough" cost methodologies are no longer adequate for today's hypercompetitive, highly disruptive product markets. A faster, more precise, and more design-centered solution is essential not only for delivering cost-competitive products but accelerating time-to-market to keep pace with shifting market needs.
An effective manufacturing costing software should tackle these challenges head-on, providing highly detailed, component-level cost estimation that allows engineers and executives alike to make rationalized decisions on core business concerns like production planning, pricing, design, supply chain management, and customer-driven product development.
In this article, we'll take a look at the capabilities manufacturing decision-makers should look for when evaluating options for manufacturing costing software.
What Is Manufacturing Costing Software?
At its core, manufacturing cost modeling software seeks to provide a detailed analysis of every aspect of a product's manufacturing cost structure, giving business leaders a timely perspective on the anatomy of the product cost. This comprehensive accounting needs to include details like raw materials, parts/components, labor, third-party services, machine depreciation, and facility time used in production. 
This analysis allows enterprises to drill down into the granular details of product design in order to build a more cost-effective alternative. With this purpose in mind, manufacturing costing software isn't simply about choosing cheaper components—impactful manufacturing cost estimation software needs to bring cost visibility to the design phase, empowering managers to implement a true cultural shift toward cost-conscious design.
What Is the Benefit of Manufacturing Costing Software?
Bringing analytics-rich cost visibility to the product design stage is strategically vital: research suggests that 60% to 80% of a product's direct cost is set during design.
Manufacturers need this sort of integrated solution to rationalize their organization's approach to manufacturing cost estimation, delivering products that combine an optimal combination of cost and desired capabilities. While traditional methods of manufacturing cost estimation got the job done, they didn't provide the toolkit needed to truly optimize costing at the design stage—particularly down to the level of component-level optimization.
Click here to read aPriori's article on manufacturing cost reduction for improved profitability.
The ability to accurately and effectively compare costs of different design possibilities is essential in a highly competitive marketplace, offering concrete business advantages like faster quotes for clients, more competitive pricing with a higher manufacturing profit margin, and a stronger win rate rooted in more confident, precise bids. Effective manufacturing cost estimation software can not only drive internal efficiencies but deliver the sort of detailed bids that show potential clients that a manufacturer is committed to innovation and efficiency.
Product Costing Software for Manufacturing: Essential Features for an Impactful Implementation
Enterprise-grade manufacturing costing software needs the ability to dive down into the costs, capabilities, and manufacturability of literal nuts and bolts. But the most impactful cost modeling software should do far more than highlight cheaper part options. We recommend choosing a software product capable of achieving a broader cultural transformation that integrates cost-consciousness into new product development and reinforces cost awareness throughout the design process.  
Legacy manufacturing cost estimation environments ranging from Excel spreadsheets to home-grown costing applications are enough for ballpark costing estimates. But they're cumbersome and inadequately integrated with engineering tools like 3D CAD, driving an unnecessary divide between design and cost optimization.
Here, we want to focus on the features that help manufacturers truly elevate their approach to cost modeling. That means moving beyond ad hoc costing, bringing true cost rationalization to the design phase.
A Solution That Interfaces Directly With 3D CAD Files: by working directly with 3D CAD, effective manufacturing costing software should remove the artificial barriers between design and cost optimization, building in cost rationalization when it matters most—at the design stage. You can see a live video demonstration of aPriori's software working directly with an aerospace CAD model here, drilling down into cost drivers and allowing for streamlined experimentation with changes to the CAD model itself.


Simulation-Driven Cost Modeling: to include the full range of factors needed to compare costs across various design options, sourcing alternatives, and manufacturing processes, a transformative cost estimation solution needs to be founded on full manufacturing simulation capabilities.

Manufacturability matters and an optimized approach to costing requires more than a laundry list of component types and costs. Cost modeling software needs to factor in a fine-grained analysis of whether a design can be efficiently produced using available facilities and procedures.

A simulation-driven costing approach allows for a detailed comparison of design alternatives, paving the way for more cost-effective products, more customer-responsive design, and optimized components across the entire supply chain.

For instance, aPriori employs physics-based cost models which address common manufacturing processes ranging from sheet metal fabrication to multi-axis machining. Deterministic routings help pinpoint the lowest-cost production method and evaluate the manufacturability of all routings defined in the Virtual Production Environment (VPE).


A Scalable Solution: While traditionally delivered on-premise, proven Manufacturing Costing solutions like aPriori are now available through the cloud. A cloud-driven approach offers decisive advantages in terms of scalability, ensuring the ability to expand without maintaining costly physical IT assets. The cloud also helps streamline software administration, simplifying tasks like updates to let your team stay focused on innovation. 


A Recipe for a Cost-Conscious Engineering Culture: In a traditional design environment, engineers are encouraged to focus on functional capabilities like performance, reliability, and safety. This practice leaves cost concerns in effective isolation.

The right software solution needs to come paired with a proven approach for propelling a shift toward a new organizational culture. A truly consultative sales approach is essential for ensuring that you procure a solution that is geared to the reality of your design process—and is backed by a plan for improving it.

At aPriori, for instance, we conduct 1-2 day onsite workshops with new clients, analyzing real-life case studies that show how engineering teams have leveraged our toolkit to transform their approach to manufacturing costing in different specialized manufacturing verticals.


A Unified Toolkit for Cost Estimation: manufacturing cost estimation software should place all these features "under one roof"—a single common database and user experience that streamlines administration, dramatically speeds up training, and encourages proactive adoption across various engineering teams. 
Learning More About the aPriori Approach to Manufacturing Costing
aPriori has proven experience delivering transformative manufacturing costing software solutions across diverse verticals, employing the customization, thorough integration, and implementation consulting needed to ensure success for manufacturing firms ranging from heavy industrials to lightweight aerospace to electronics.
We're able to deliver consistent results because our software draws on a nuanced understanding of vital manufacturing processes to generate a holistic portrait of a product's total economic cost in a world without markups.
PAIN POINTS FOR MANUFACTURING AND THE DIGITAL RX
Learn about manufactures' pain points as well as the prescription for a digital cure.
LISTEN TO THE PODCAST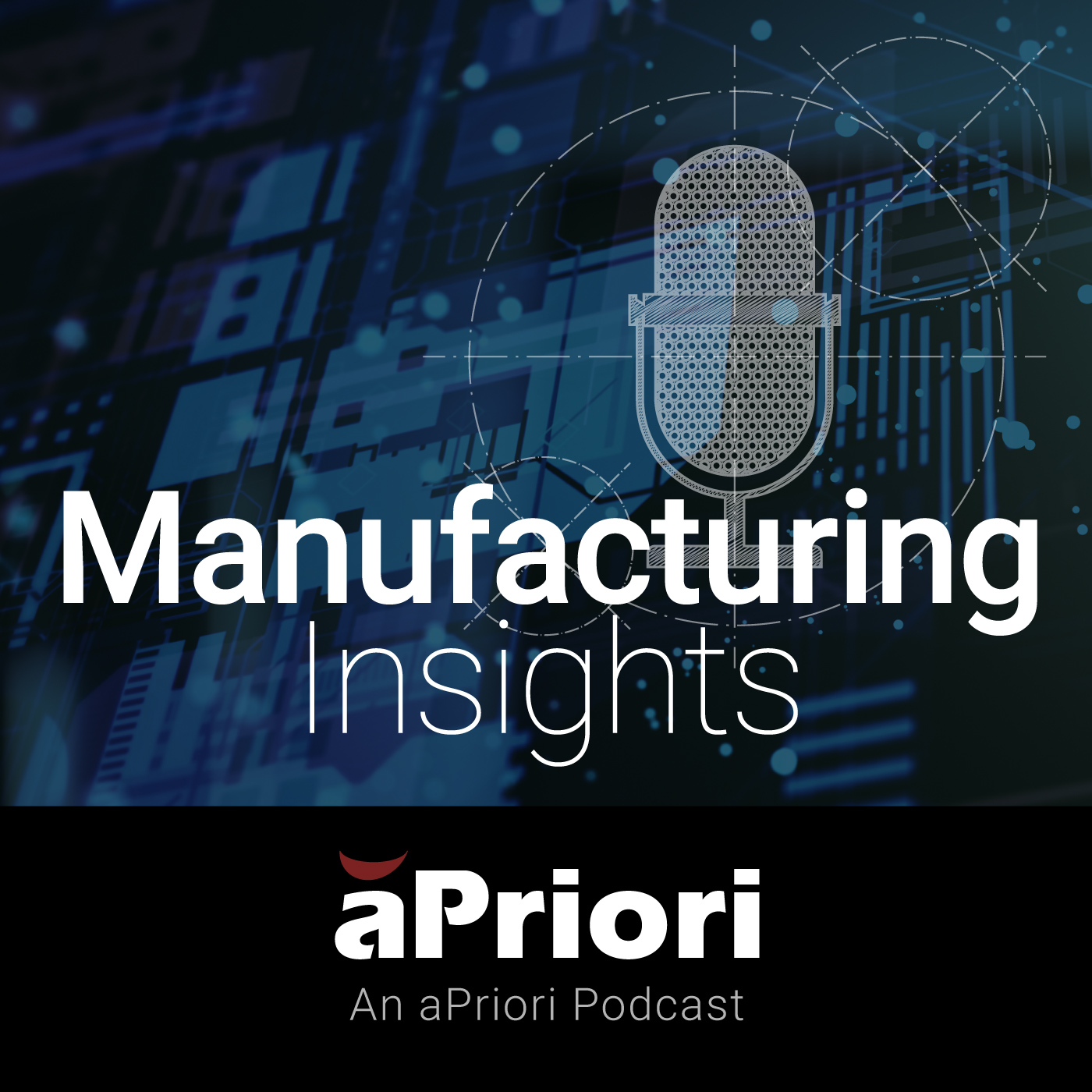 ×