Episode 32 | February 1, 2023
Can Digital Factories Close the Labor Gap?
Implementing digital factory twins helped this manufacturer reduce costs amidst a labor shortage.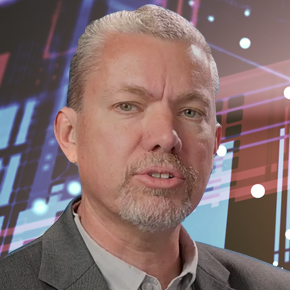 Chris Platz, Global Commodity Manager, Woodward
The scant supply of labor available to sourcing and procurement departments today is being wasted on quoting tasks that don't lead to business, and that could be automated. So says Chris Platz, the Global Commodity Manager at Woodward, a manufacturer of aviation and aerospace components. I caught up with Chris Platz at aPriori's most recent Manufacturing Insights conference. There, he told me how the digital factory has delivered major process gains in his department despite major decreases in the global supply of labor.
All of this gave me hope that the problems of the future might find their solution in the digital factory. Here's my conversation with Chris Platz. I'm here with Chris Platz from Woodward.
Leah Archibald: Tell me a little bit about what you do at Woodward, Chris.
Chris Platz: I'm in charge of our corporate supply chain. I deal with all the machining aspects of the products that we bring in to Woodward – roughly about $400 million a year and a couple hundred suppliers around the world.
Why Do You Need a Digital Factory Twin?
Leah Archibald: What was the problem that you were trying to solve when you brought on aPriori two years ago to create a digital factory twin?
Chris Platz: There are a lot of problems to solve! The first is figuring out what is fair and reasonable. We can go out and quote everybody in the world, we can get numbers all over the place, but what really is fair and reasonable when you come down to pricing on a part?
Then we expand from there. We're looking at capability and capacity within our supply base. There's limited supply of labor out there, so we really have to make sure we're putting parts in the right place at the right time. We're using digital factories to channel movement to key suppliers.
Leah Archibald: As you're using aPriori's digital factory twins to deal with things that might come up in the future, like supply chain shortages, what do you see on the horizon for 2023?
Chris Platz: We're going to move to the cloud next, and then we're going to start doing overnight modeling. As design engineering is designing those parts, we can actually keep track of where they're at as far as cost, and make sure the parts are manufacturable and everything else that goes with that.
The Digital Factory Helps Manufacturers Hedge Labor Risks
Leah Archibald: What kind of results have you seen with aPriori's digital factories over the past two years?
Chris Platz: You can look at dollars savings. You can look at how it's digitalizing our supply base. There's a lot of different things you can look at. It's been a substantial improvement to our business.
Labor's a big piece of this. Our suppliers are having labor constraints, and they're wasting that labor quoting parts. They might do it for a competitive bid, or sometimes it's just for a market analysis. But their actual win rate is probably 7-10%. It's not a great result on their end. They've got a quoting desk wasting time figuring out routings, figuring out material and tools and everything else. And if you only have a 7-10% win rate at the end of it, that's a lot of effort you've spent where you're not getting much out of it in the end.
Instead, we're working on the digital factories, negotiating the upper-level labor rates and overheads, direct, indirect overheads and margin. We've got all that established up front, and we've got their equipment list built-in. So I can look at capability and capacity. Can they make it and do they have capacity to make it? That's how I focus on where we're going to put parts. We're making that decision before the part actually gets released. We're digitally modeling it. We've got the routers, we know the equipment, and labor rates. So it's a huge saving for our labor and theirs.
Leah Archibald: Thank you so much for talking to us today.
Chris Platz: Absolutely.
Want to source more parts with less labor in your supply chain?
Learn how to reduce time to quote with digital factories.
Subscribe Today
Get the latest Manufacturing Insights podcast episodes delivered directly to your email.