Back to aPriori Blog Home
Why Digital Transformation Technology is A Manufacturing Game Changer
Key Takeaways:
Manufacturers must get on board with a digital transformation strategy to be competitive
Digital technologies unlock real-time data analytics to improve profitability, manufacturability, and sustainability
The Full Article:
Gartner reports by 2026, 70% of organizations that successfully applied observability (examining performance metrics, logs, etc. to monitor and analyze software systems and cloud computing) will achieve shorter latency for decision-making, enabling a competitive advantage for target IT or business processes. The same report cites that more than 50% of enterprises will use industry cloud technology to accelerate their business strategy by 2027.
Digital transformation technology is a manufacturing game changer. It can mitigate many challenges manufacturers face such as supply chain, inflationary, and geopolitical risks. These benefits are just the tip of the iceberg, and we've made it a centerpiece of our 2023 Manufacturing Insights Conference (MIC).
Our keynote speaker and geopolitical expert, Peter Zeihan, will discuss how geopolitical unrest, material shortages, and other challenges place added pressure on manufacturers. He will explain how emerging geopolitical trends continue to profoundly reshape manufacturing supply chains. Additionally, he will explore Mexico's growing prominence as a supply chain solution for North American manufacturers as well as show how everchanging demographics impact manufacturers in the U.S., Germany, and China.
Discover Digital Transformation Technology's Power at MIC
This year's conference theme is "Digital Twins Reimagined." They are the foundation of digital transformation technology and are interconnected throughout product development. Our conference will show you how to unlock the value of your digital twins, improving product manufacturability, profitability, and sustainability. All while they achieve millions of dollars in savings, reduce quoting times, enhance product quality, meet sustainability initiatives, build agility and scalability, and grow revenue.
Explore how digital factories identify manufacturability issues early in design, reducing costly late stage redesigns and accelerating time to market.
Real-life Examples of Digital Transformation Technology
Discover why the voices of our customers are the cornerstone of our conference. It is a prime opportunity to hear firsthand how we've worked with them, the challenges we've helped them address, and the results they've seen from their partnership with us.
For example, Signify had a goal of ensuring their procurement practices were best-in-class while also focusing on increasing should cost analysis eight-fold. Utilizing aPriori's digital transformation technology solution, aP Generate, Signify achieved both and you can hear how at our conference.
GE Appliances (a Haier Company) recognized the power of aPriori to embed should cost into its organization. It was important that they have a solution that provided the correct language upfront that could be used consistently across product development teams. Learn how the company gained cross-functional buy-in and leadership support to implement aPriori as a standard toolset. As a result, GE Appliances now has a solution that provides tool, CAD, and materials library accuracy, creating operational efficiency going forward.
Another aPriori customer, Eaton, leverages design automation in their product development. Additionally, they are embracing digital transformation technology like artificial intelligence (AI) to further advance product development and engineering lead times and costs. The Gartner report also finds that enterprises using artificial intelligence engineering practices to build and manage adaptive AI systems by 2026 will outperform peers in those operating models by at least 25%. aPriori helps customers like Eaton unlock cost savings and product optimization.
The Boeing Company will share its success story as well. aPriori's manufacturing intelligence solution works with a customer's CAD model, utilizing a digital thread to drive optimal design and rein in costs. The Boeing team received detailed and actionable feedback from aPriori's solution to fully realize the optimal model-based cost, blending both technical solutions and people-centric communication and collaboration. P.S. Our Tuesday session, "Driving Profitability and Sustainability through Collaboration" is a great prelude to Wednesday's Boeing Company session.
Carrier Corporation will present a compelling story. It uses Design for Sustainability to meet its sustainability initiatives. A key component is implementing sustainability metrics from a part's/product's inception point. Find out how Carrier created a metrics roadmap and as a result, achieved carbon and cost reduction.
Read our customer case studies.
More Proof of the Power of Digital Transformation Technology
In addition to our customer stories, the conference will offer myriad session tracks, addressing issues from driving profitability via design to plastic molding and thermoforming workshops. Other session tracks run the gamut from "Strengthening Supplier Relationships with Digital Twins: Mitigating Risks and Maximizing Profits in Manufacturing" to "Unleashing the Power of Digital Factories: Customizing Process Routings in aPriori." These sessions underscore digital transformation technology's breadth and power to influence the trajectory of a manufacturer's business operations.
Attendees also can learn more about aPriori's product portfolio vision and new technologies on the horizon. The aPriori User Council's Group Update will provide further insight into our latest projects. In between sessions, visit our technology showcase where you can have your questions answered by our implementation experts and get hands-on demos of aPriori's new features such as cross-functional collaboration and CO2 calculation.
Begin and conclude the conference with aPriori's CEO Stephanie Feraday's take on digital transformation technologies. Join her and several guests on Wednesday for a fireside chat about implementing digital transformation initiatives to fuel business success amid market uncertainty.
What Is The Key to True Business Transformation?
Adoption of Digital Manufacturing Technologies
Listen To The Podcast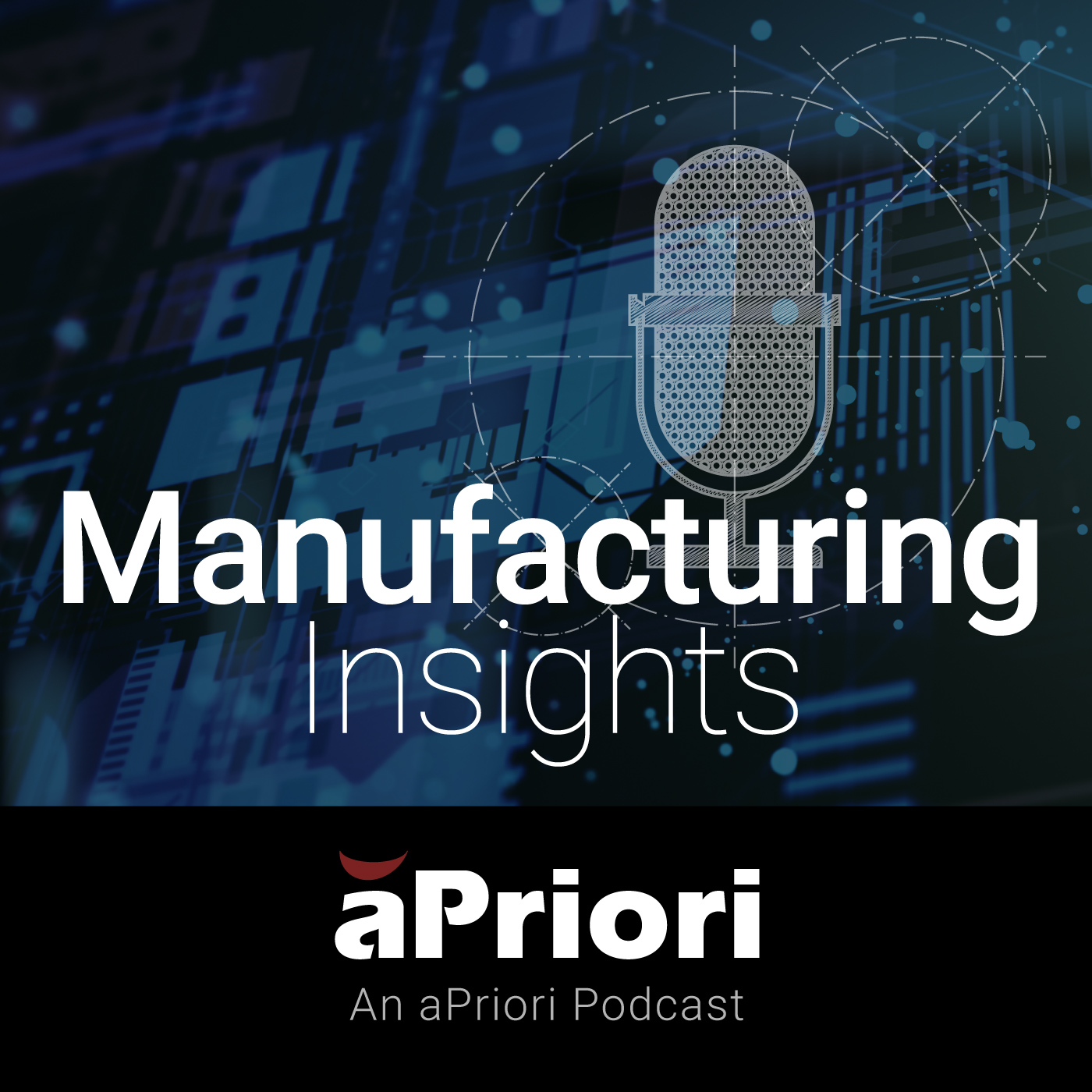 ×