Back to aPriori Blog Home
The Attendee's Guide to the 2022 aPriori Manufacturing Insights Conference
For the past decade, the aPriori Manufacturing Insights Conference has provided an insightful, immersive experience that addresses manufacturers' top priorities. From improving profitability to reducing time to market, the Manufacturing Insights Conference has everything manufacturers need to grow and achieve success.
This year's corporate event is designed to help manufacturing firms navigate inflation, accelerate cash flow and comply with sustainability regulations. The conference will feature customer case studies, keynote sessions and workshops to assist manufacturers in meeting their sustainability and profitability objectives.
This post will provide an overview of the 10th annual aPriori Manufacturing Insights Conference, which will be held on November 15-16, 2022. We also present helpful tips that attendees can use to get the most out of this year's Manufacturing Insights Conference.
What is the aPriori Manufacturing Insights Conference and Why Should You Attend?
aPriori's Manufacturing Insights Conference is a two-day event that brings together leading manufacturers to network and learn about new technologies and methodologies. Since its inception, aPriori's annual corporate event has provided comprehensive insight into a variety of areas such as:
Leveraging digital transformation in manufacturing to drive business success and better customer decision-making.
Improving collaboration in the supply chain and across an entire product team.
Optimizing products for cost, manufacturability and sustainability early in the product development process.
aPriori's must-attend corporate event inspires attendees to apply what they have learned in their organizations to achieve next-level success. Simply put, the conference experience better prepares manufacturers to deal with industry challenges and capitalize on today's lucrative manufacturing opportunities.
What Can Attendees Look Forward to at the 2022 aPriori Insights Conference?
Attendees at this year's Manufacturing Insights Conference can join five specialized tracks, peer networking opportunities, technology showcases and much more. The complete 2022 aPriori Manufacturing Insights Conference agenda has been carefully designed to assist today's manufacturing companies in:
Reducing carbon dioxide equivalent (CO2e) emissions to meet net-zero aspirations, sustainability goals and regulations.
Using digital manufacturing insights technology to improve profitability and deliver cost-effective, innovative new products to market as quickly as possible.
Overcoming critical supply chain issues while navigating the current inflationary environment.
Improving the way that product team departments, such as product costing, design engineering and sourcing, collaborate and work to achieve success.
Key Event Details and Agenda Items for the aPriori Manufacturing Insights Conference 2022
This year's conference will be an in-person gathering of the most innovative and strategy-driven minds in the manufacturing industry today. The following sections will provide further insight into the venue, agenda and overall value for attendees of the upcoming November conference.
Conference Dates and Venue
The 2022 aPriori Insights Conference will be held on November 15th and 16th at the Boston Marriott Long Wharf hotel in downtown Boston. The immersive, two-day Manufacturing Insights experience will transform the Boston Marriott Long Wharf into a hub of manufacturing innovation.
Current aPriori users can add to their Insights experience by enrolling in two distinct courses on November 14th. Participants in these courses turn into students eager to learn more about aPriori's products. The hands-on courses will teach users everything they need to know about aPriori's Design for Manufacturability and Cost (DFMC) capabilities.
The in-person corporate event at the Boston Marriott Long Wharf is limited to 200 attendees, and spaces are filling up quickly. Those interested in attending the event can register now to experience everything that the aPriori Insights Conference has to offer.
Five Specialized Manufacturing Insights Session Tracks
aPriori's Manufacturing Insights Conference will feature five specialized tracks designed to improve user efficiency across the product life cycle (PLC). These sessions will also cover how user groups may leverage aPriori's actionable, real-time insights to overcome today's top manufacturing issues. The five tracks to take advantage of are:
Design for Manufacturability (DFM). Attendees will learn best practices for improving the product development life cycle and production processes for speed, performance and fit.
Product Sustainability. Manufacturers are facing greater regulatory duties to address sustainability while investors and customers demand more "green" products. This track delivers best practices for assessing CO2e emissions throughout a company's supply chain. It will also discuss how to strike a balance between sustainability, cost and manufacturability.
Supply Chain Collaboration. Discover how manufacturers are embracing zero RFQ/quoteless sourcing to expedite negotiations and create greater levels of collaboration and automation across the supply chain.
Experts Only. Manufacturing firms leverage the aPriori platform to manage today's most challenging business concerns. This track will provide aPriori users with useful training and workshops to help them deliver value to their companies.
Executives (Invitation Only). Corporate leaders can participate in roundtable conversations to obtain new perspectives from knowledgeable executive-level presenters. This track will also provide leaders VIP treatment at an offsite event.
Live Demonstrations and Panel Discussions
The aPriori Manufacturing Insights Conference will be jam-packed with live demonstrations and technological showcases. aPriori's product management team will take part in a must-see live demo: "The Power of Teamwork." Attendees will enjoy watching as the product management team demonstrates how to use aPriori to boost productivity and reduce time to market. Attendees will also hear from aPriori's top product and technical experts to discover how aPriori advances manufacturing with its simulation-driven solution.
Stephanie Feraday, President and CEO of aPriori, will attend and speak at the Manufacturing Insights Conference this year. Rob Lidster, former Chief Procurement Officer of GE Appliances, will join Feraday for a co-hosted fireside chat. Throughout their discussion, the seasoned leaders will unveil key strategies for tackling and mitigating current global supply chain challenges.
Customer Case Studies and Real-World Insights
Conference participants can attend aPriori's customer case study presentations, which will feature some of today's top global manufacturing organizations. The following eight manufacturing powerhouses will host customer case study sessions at this year's aPriori Insights Conference:
1. Scania
Scania, a global leader in transport solutions, will discuss how it uses aPriori to incorporate CO2e calculations into its development process. Attend this session to follow Scania's journey to sustainable manufacturing. Daniel Rosner, Technical Manager at Scania will be joined by Bernard Swiecki, Director of Research at the Center for Automotive Research. Swiecki will share insights around the topic of sustainability in manufacturing, followed by Rosner's practical insights into how Scania is putting sustainability initiatives into action.
2. AGCO Corporation
AGCO, a leading agricultural machinery company, will present how it uses automation to gain early manufacturability and cost insights for its designs. Stan Kroeker, Senior Engineering Specialist at AGCO, will be speaking at this insightful customer case study session.
3. Woodward, Inc.
Across the globe, the machining labor market is tightening due to critical labor shortages. Join aPriori customer, Woodward, a large aerospace component manufacturer, to hear how it is overcoming this global challenge through digitalization. Woodward's Global Commodity and Category Manager Chris Platz will lead this case study presentation.
4. Spirit AeroSystems
For more than six years, Spirit AeroSystems has been using aPriori to identify and eliminate cost drivers early in design. David McGinley, Spirit AeroSystems's Structural Design Engineer, will present some of the results of using aPriori to reduce product costs. McGinley will be joined onstage by Hank Marcy, former VP of Development at Johnson Controls-Hitachi.
5. Caresoft Global
Arjun Nagendra, VP of Global Operations at Caresoft, and Manojdeep Jasrotia, Director of Industrial and Manufacturing Services at Caresoft, will present at this session. The guest speakers will discuss how Caresoft's benchmarking method is complemented by aPriori to drive actionable, real-world results.
6. Carrier Global Corporation
Carrier will present how they use aPriori to digitalize their cost engineering process. The multinational heating, ventilation and air conditioning company will also present its plans to maximize the effectiveness of manufacturing insights across business units. Tristan Abend, Manager of Value Engineering at Carrier HVAC, will lead and speak at this case study session.
7. Signify
Signify, the world leader in lighting, will discuss the significant cost savings it has achieved by using aPriori for should cost analysis. Arnold Chatelain, Transformation Program Director at Signify, and Robert Ottens, Senior Engineer at Signify, will lead this discussion.
8. KONE Corporation
The global leader in escalator and elevator innovation will greatly detail the way it uses aPriori for should cost analysis. Jagan Thanigachalam, KONE's Senior Specialist of Should Costing, will lead the discussion on why digital transformation is required for should cost projections.
Tips for Manufacturing Insights Conference Attendees
Attendees can get the most out of this year's conference by taking advantage of the available networking and educational opportunities. They should define their conference objectives and make plans to attend all the conference agenda items required to achieve them.
The conference experience should not be all work and no play. It is important that participants make time for fun and form friendships with colleagues in the field. This allows participants to feel more refreshed and energized throughout the two-day immersive conference in downtown Boston. aPriori's conference planners have you covered with an off-site adventure participants will be sure to talk about for years to come! 
Are You Ready to Attend?
The aPriori Manufacturing Insights Conference provides everything manufacturing firms need to meet their cost, manufacturability and sustainability targets. With less than four weeks until the conference, individuals can register now to attend aPriori's must-see annual event.
TECH SOLUTIONS FOR CHIEF SUSTAINABILITY OFFICERS
Chief Sustainability Officers (CSOs) face a huge task, with limited resources. New tech solutions can help CSOs understand and control the carbon footprint of their products.
LISTEN TO THE PODCAST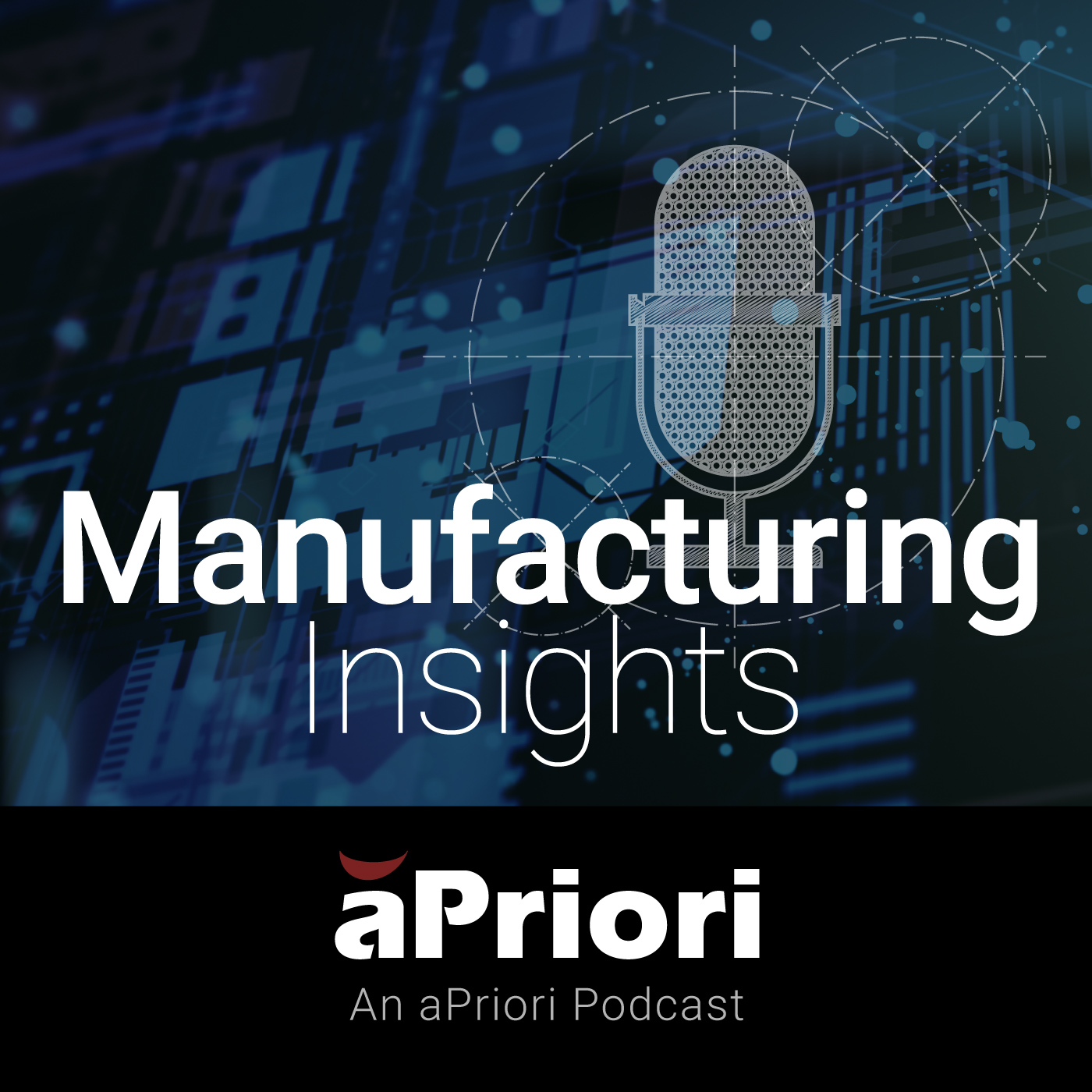 ×